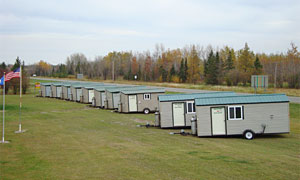 Red Lake Fish House Rentals
Upper Red Lake Ice Houses
Stay on Upper Red Lake in a fully equipped sleeper fish house and ice-fish Minnesota's best Red Lake walleye, northern and Upper Red Lake crappie. New, Modern, Clean Sleeper Houses fully equipped. Whatever you call it-shanti, shack, ice house, huts, rentals, over nighters - our houses are very comfortable for you to get that trophy pike or world class northern. Winter fishing could not be nicer.
We have kitchens with stove-top, heated outdoor restrooms, carpeted, 12volt 110 opt., gas lights, direct vent heaters for your safety, carbon monoxide detectors, radio AM/FM/CD, hook-up for TV, Handicap accessible, 8 holes, rattle wheels, size of houses are 7 1/2x16, moved frequently & try to always be on fish!!! Our deluxe houses have even heat - warm floors. No need for fans. Also our houses sit on the ice - makes it much easier for getting your fish up and out of the water.
We can accommodate any size group
Current Per Nite Rates-per house
Sunday thru Wednesday Per nite rates $135 for 2 guests; $170 for 3 or 4 guests (except holidays).
Thursday thru Saturday Per nite rates $180 for 2 guests; $215 for 3 or 4 guests.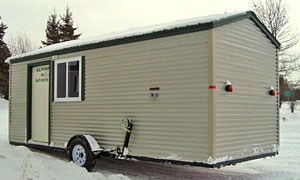 6 man sleeper houses - size 8x22 - 12 holes
Rates per nite per house: Sun thru Wed $250 per nite (except holidays)
Holidays, weekend rates apply
Thurs thru Saturday $325 per nite
6 guest max in these houses
Day House Rates When Availale: 11am-6pm
$25 per guest with a $100 minimum for a 4 person house
$25 per guest with a $125 minimum for a 6 person house
Rate does not include tax
Hours are noon to 10 am next day
| | | |
| --- | --- | --- |
| 6 Person House - Foldup Bunks | | 4 Person House - Stove |
| 6 Person House - Stove | | 4 Person House - Bunks |
| 6 Person House - Stove and Bunks | | 4 Person House - Bunks |