2004 COUNTY FAIR WINNER!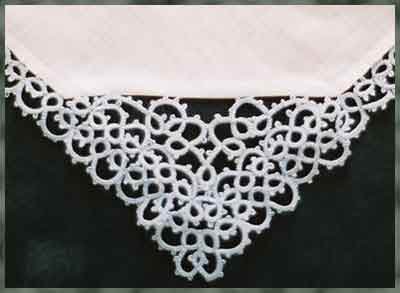 Winner: Robbyn Younggren, Bemidji
Won: 1st Place Ribbon, 2004 Beltrami County Fair
Entered: Edged Hanky
TATTED WORDS
It is common impression that tatting, to be attractive, must be done with two threads, and it is true that more elaborate patterns may be made by that method.
The real secret of good tatting is not in the elaborateness of the design, but of careful, pain staking work.
Only the expert should attempt to work rapidly, for it is only by drawing up the stitches with perfect regularity that the
beauty of any design is brought out.
Source: An old clipping found in an antique shop, the writer's name not included in the clip.